Includes information on Bass, Jones, Keyes, Whatley, Gage, Stasney, Loewe, Nause, Stickney and Hicks families as well!
We've traced our lineage back to 1580, then we created this web site to provide information on our family line. It's also a meeting place for family members, however distant. If you find that you have extra information, corrections, or questions please send e-mail to us!
---
Contents
---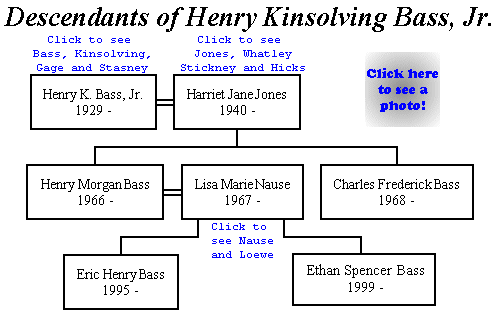 Using Family Tree Maker, we've traced our lineage back to around 1580. Click on a family name above to follow ancestor trees, or just browse the list of relatives below. Check back for additions.
Relatives - sorted by last name
Relatives - sorted by date of birth
Photos - See a few of us! (Eric, mostly)
You can download a GIF image of the Bass family tree, the Jones family tree, or the Whatley family tree. They are quite large, physically, about 4000 pixels wide by 1300 to 1780 pixels tall. File size is approximately 75 kilobytes each.
---
The Whatley Family Reunion

An annual event. This year, the reunion was held in Mobile, Alabama, in early June. Mary Elizabeth Whatley Jones attended, together with her daughter Harriet Bass. They reported that they had a wonderful time at the reunion and met many wonderful people.
Click the link above to jump to the address book. This is an ongoing project! We'd like to gather e-mail addresses from anyone related to us. We'll create a hot-link to your mail account within this web-site. Send your name, relation, and e-mail address to us via the methods listed in Contact Information.
---
Family Tree Maker Geneology software used for the Bass family tree
Abilene Online Abilene's home page with exciting links (Abilene, Texas)
www.MatWeb.com MatWeb: the on-line materials property reference by Automation Creations, Inc.
---
Charles F. Bass
Charlie is finishing his Ph.D. in Counseling Psychology through the University of Oklahoma, in Norman, OK. Currently, he's assigned as an Army psychologist with the 528th Medical Detachment (Combat Stress Control) (Airborne), at Fort Bragg, North Carolina.
Charlie has collected and organized the family tree information. This web site was his idea!
Henry M. Bass
Henry has a Bachelor's of Science in Mechanical Engineering (Washington University in St Louis, 1989), a Masters of Science in Mechanical Engineering (Va Tech, 1996) and a Masters in Business Administration (Washington University, 1989). He was with the Army in Germany from 1990-1992 as an executive officer in 523rd Maintenance Company (TMDE). He has recently started his own company, Automation Creations, Inc (1996). The company specializes in internet e-commerce and data-driven web sites. Their first project remains one of their largest, a free materials database on the web.
---
Electronic mail address
Charles F. Bass: cfbass@yahoo.com
Henry M. Bass: henry@aciwebs.com

Web address http://www.HenryBass.com/bass/

Henry's Office Telephone:
(540) 381-1286
Henry's Office Fax:
(540) 381-5300
Henry's Company Address
Automation Creations, Inc.
270 Morning Star Lane
Christiansburg, VA 24073-5808
Copyright Henry & Charles Bass, 1997.
Last revised: September 07, 2004.